schizotypal

Which Personality Disorder Do You Have?
brought to you by Quizilla

When danger reared its ugly head, he bravely turned
his tail and fled!

What Monty Python Character are you?
brought to you by Quizilla

Green Eyes

What Color Eyes Should You Have?
brought to you by Quizilla

What Is Your Animal Personality?
brought to you by Quizilla

I'm Chandler Bing from Friends!
Take the Friends Quiz here.
created by
stomps.
You are Fozzie!
Wokka Wokka! You love to make lame jokes. Your sense of humor might be a bit off, but you're a great friend and can always be counted on..

Find out who your inner rock boy is here! by

Find your emotion!
You're SLOTH! You're extremely lazy. There's just no other way to put it! Your loner attitude gets in the way of your social life sometimes. You're represented by the color aqua.
If I were a boy band I would be...

This quiz was created by Krazy K. Take it here!

take the "which beatles movie are you?" test at only-sleeping.org

Which member of The Who are you?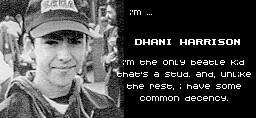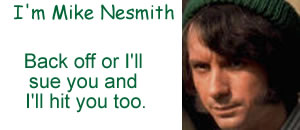 Take the Hey Hey, Which Monkee Are You? Quiz.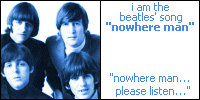 Take the Which L&C member are you? quiz from Bebe Le Strange

Just stuffed full of surprises. No one ever knows what you're going to do next. The greatest mystery to you is, naturally, "how do they get the caramel in the Caramilk bars?"