Well, here is my little hole in the internet! It may become a crater later, but for now it remains a hole : ). You probably know what this website is about (hence the pictures and title) but for those of you who have not had your coffee yet, or have had TOO much coffee, this is a *drum roll* Beatles site!
Awww yes the Beatles. Those four happy, go-lucky guys from Liverpool who burst onto the American scene in February of 1964 with their nation wide appearence on the VERY popular Ed Sullivan Show! Speaking of Mr. Sullivan I think he would like to open up this website to the unsuspecting world!
Ed Sullivan: "Uhhh yes, thank you young person. Well without further ado, ladies and gentlemen THE BEATLES!"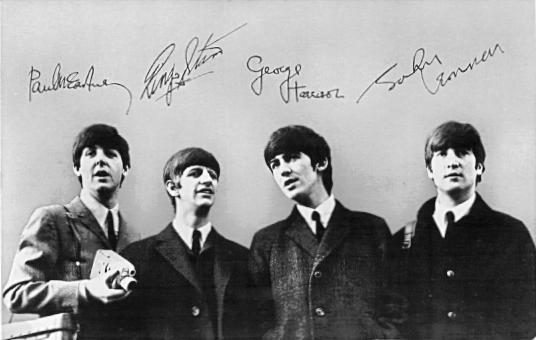 *lots of screaming fan noises!*

A funny little mind bender:
One fine day in the middle of the night
Two dead boys got up to fight
Back to back they faced each other
Drew their swords and shot each other
A deaf policeman heard the noise
And came and killed the two dead boys
If you do not believe that this lie is true
Ask the blind man for he saw it to.
Word's of Wisdom...
1.) "If at first you don't succeed, destroy all evidence that you ever tried."
2.) Don't put off until tomorrow what you can avoid doing altogether.
3.) If you love something let it go and if it doesn't come back, chase it down and kill it.
4.) Be true to your school...but get out of it as fast as you can.
5.) Highways make America fat.
6.) If it wasn't for the Spanish, the phrase "!Ay Caramba!" would be a waste.
Randomness and Injokes
1.) Winged tubbies frollic near the power steering.
2.) We don't eat to live in this country, we live to eat.
3.) A sausage-orbiting monkey matrix
4.) Puffa-puffa rice
5.) Po-tay-toe. "You've got a lovely bunch of po-tay-toes this morning." "How are your po-tay-toes?"
6.) Hmmm, the ozone layer or cheese in a spray can. Don't make me choose!
7.) Sorry but I gotta go. Time flies when your sick and psycotic.
8.) And Moses parted the Mr. E's and there before him stood a clean path to the euphonium display!
9.) E.G.G.
10.) Spongecake! *dun dun dun*
11.) Thanksgiving-In-A-Can
12.) Riot!! *watches Eric bolt past in the direction of torches and angry villagers*
13.) Look, I'm walking!
14.) Oooo a pole!
15.) -ish, -ness
16.) Mmmm chestnuts *drool*
17.) *mangle, mangle* *arm*
18.) Shine your horn or we take away your monkey!
19.) Shine your monkey or we take away your horn!
20.) I eat pastry!
21.) LIPS!!
22.) Politically correct:
Superman/woman/boy/girl/baby/spider/bat
23.) "Let's get back to my appendix..."
24.) DISCUSSION QUESTIONS
1.) Name the causes of the Civil War.
ans: Earl and Dexter
25.) -Announcements: "And who can forget the words of wisdom General McArthur's mother once told him that he remembered the rest of his life..."
-Me: "Don't pick at it!"
26.) Jeremy! Put down the crustacean!
27.) "It's either the swimsuit or it's me!" -Heather
28.) Answer or I'll stab you with a fork.
29.) Smell my book...